Products
Capacitor Duty Contactors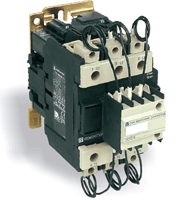 Capacitor Duty Contactors are specially design to meet capacitor switching applications. They are fitted with contact block of 3 early make auxiliary contacts in series with quick discharge damping resistor to limit pick current to the value within contactor making capacity such that normal rated capacitor current is carried by main contacts which, after closing, effectively by-pass the damping resistors. These contactors conform to IEC 947-4-1 & IS 13947-4-1.
Range
Capacitor Duty Contactors, 3 Pole, are available in 8 ratings to meet exact applications need in ratings 10 kVAR;12.5 kVAR; 16.7 kVAR; 20 kVAR; 25 kVAR; 30.3 kVAR; 40 kVAR; 60 kVAR., suitable for clip-on or base mounting.
It has provision of 1 NO + 1NC or 2NC auxiliary contacts & extra auxiliary contacts are feasible by using side snap-on blocks. The contactors are suitable for operating temperature of 50 degree C without de-rating.
Benefits

Saves cost of expensive replacements


Saves energy; reduced watt loss during "ON" conditions


Operator safety through IP 20 shrouds on power & control terminals


Higher safety in operations


Switching of capacitor bank in parallel without de-rating


Less maintenance & down timing.


Higher electrical life
Standards & Approvals

Designed to meet or exceed IEC, UL, CSA, VDE, BS & BIS standards


Compliance to IEC 947-4-1 & BIS 13947-4-1


CE marked


ISO 9001:2000 certified company