Products
Photo Electric Sensors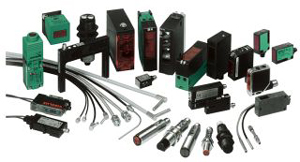 A wide range of photoelectric sensors, fiber optic cables, & accessories. We have the photoelectric sensors you need to keep your applications running. Pepperl+Fuchs with the brand VISOLUX is an innovator of photoelectric sensing technologies. For precise, optical control of positioning, sorting, & counting processes & for custom non-standard applications, look to Pepperl+Fuchs to have the answers for every industry.
---
Ultrasonic Electric Sensors
Ultrasonic sensors present the ideal solution for non-contact position and distance measurement in all industrial areas where environmental conditions such as dust, smoke or steam may affect the sensors. Objects consisting of a variety of materials can be detected to within millimeters regardless of color or shape.
The ultrasonic sensor produces a data carrier utilizing very high frequencies that are outside the humanís audible range. The time it takes for that ultrasonic wave to pass between the sensor and the object is the value for the distance or the position. Ultrasonic sensors have proven their reliability and precision in many industries, including lumber and furniture, construction materials and equipment, farming equipment and in level control applications.
Pepperl+Fuchsí ultrasonic sensors currently encompass 8 series of mechanical designs for through-beam, direct detection and retro-reflective operation with more than 40 designs and models. Customer and application specific custom solutions underscore our technological competence in this area of sensors.
Product features:


Devices with TEACH-IN functionality for fast and simple installation.

ULTRA 2001 software for improved adaptation of sensors to applications (for devices with RS 232 interfaces)

Temperature compensation equalizes deviations in sound velocity due to varying air temperatures

Synchronization input to prevent cross-talk interference when sensors are mounted within close proximity of each other

Sensors with digital and/or analog outputs
---
Rotary Encoders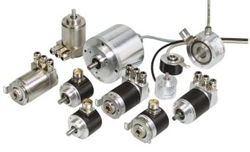 Rotary encoders can be used in all applications that require monitoring rotation rate, speed, acceleration and direction. These sensors can be utilized in many applications found in mechanical engineering, the conveyor industry, material handling and the packaging industry. You are certain to find a suitable rotary encoder for your application from our broad product offering.

In automation, rotary encoders are used as sensors for angle, position, speed and acceleration. Linear motion can also be measured through the use of spindles, gear racks, measuring wheels or cable pulls.

Rotary encoders convert a mechanical input into electrical signals, which can be processed by counters, tachometers, programmable logic controllers and industrial PCs.